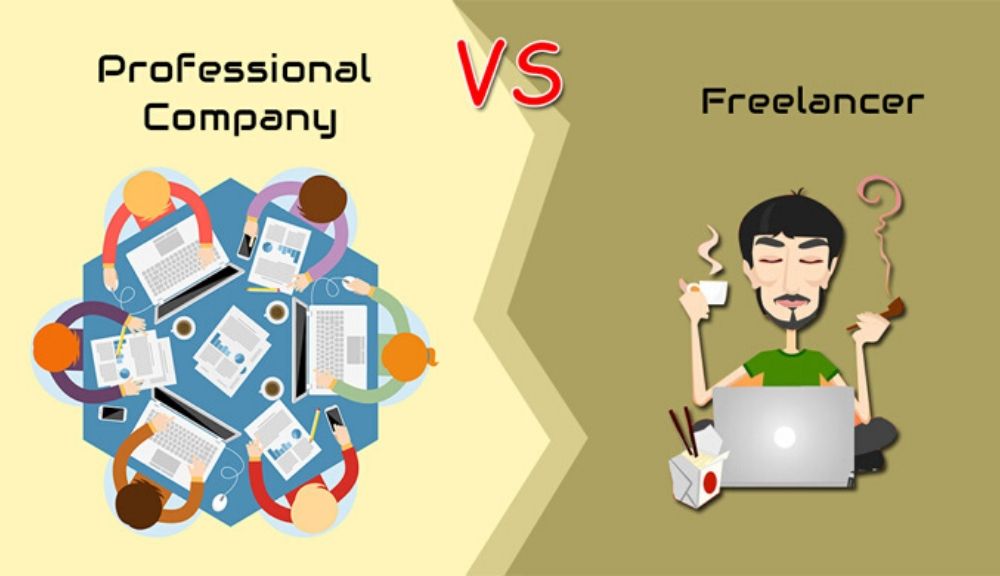 Website designing company – A website represents your brand, business and the work you want to showcase to the world. Website Design Company provides SEO friendly, Dynamic, Responsive websites that build strategies to achieve your business goals.
Website designing freelancer – A freelancer is about a person who works for different companies as a contractor, or has clients and is self-employed but doesn't have an official company or business.
Basic differences between a web designing company and a freelancer:
A Website designing company has the experience of working on a variety of projects and that will undoubtedly help you in sorting out each and every issue related to your project.
A freelancer may not be able to complete the task and deliver it on-time, as they handling it single-handedly and it is difficult for a freelancer to handle the quality and quantity of work.
Web designing company will get to work with a number of skilled employees, project manager, a designer, a developer and a tester, who have expertise in their specified fields.
Hiring a freelancer means you are willing to work with a single person for all of the tasks related to your project.
Hiring a web designing company means hiring a complete team along with a project manager, who will communicate and will be responsible for all of the issues related to the project.
A freelancer is just a single individual, and maybe you will end up requiring more freelancers, who will have to work with each other.
While working with a website designing company, the project manager will lead the team and will be responsible for any kind of organizational issue, but working with freelancers will no longer respond to the management part and it depends by your own.
Web designing company is working with a highly organized team having great internal connections. They provide each and every update of your project on time, which makes it easy to monitor the working progress and to make any corrections if needed.
While hiring a freelancer and you are working with more than one freelancer you can communicate with them directly, but your project is a bit bulky and time-consuming option to clear the concept with each individual.
The quality website and application plays a major role in the success of your business. It should be responsive and attractive as well, which can be able to attract customers through a web designing company.
Another point is about Security while working offline, but if you're working online, you undoubtedly need some kind of protection. For any freelancer to provide the necessary level of security is a little bit difficult, but for development companies, they know that their reputation and client's safety both falls at the same point.
Site Invention is the best Web Designing Company in Mumbai provides the Customer service is often good and response time is quick. This means the amount of time a project takes from proposal to completion is very quick and user-friendly. Every aspect of a website project has a timeline and extremely well-organized and can get every benefit of working with an organization at a reasonable and affordable cost.