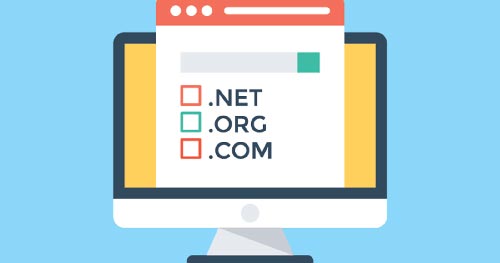 The perfect domain name for your website is significant for your success. It is important to choose the correct domain name because it is very hard to change the name in the future, it might hurt your search rankings and your brand.
That is why from the start, it is important to choose the right domain name. When you start, try to have catchy business name ideas, so that, you can have a perfect domain name with it.
Following are some tips that will help you with the best domain name and register our new domain for free.
1. Dot-com Domain
There are many domain extensions available in the market. You can use any of the extensions but avoid using extensions like .blog, .poetry, etc. Dot-com is one of the most common domains. Many people do search with the .com domain on google. .com is a memorable and established domain.
If your website name is sky.dreams and if the person accidentally types sky.dreams.com then he might be taken to an error page. To avoid such circumstances its better to stick with the .com domain. Even many mobile phone keyboards automatically have a .com button.
2. Keep your Domain Name Short
The length of the domain name should be short so that it is memorable. It should be approximately 15 characters. Longer domains are hard to remember. It might lead to loss of traffic as there can be typo mistakes while entering a longer domain name. That is why a short domain name is suggested.
3. Use keywords in your Domain Name
Keywords in your domain name suggest what your website is about. That is what your domain should contain keywords. It helps you rank higher in Google search engines with good quality content. You have to be creative enough to use the correct keywords in your domain that are not taken to make your domain stands out from the rest.
4. Keep it Unique and Brandable
Your blog name should be unique. You can search for some other blogs of your niche and see what names have used, and try to make up your unique name that is memorable to a reader. But, do not accidentally use a trademark name or get the accused of copyright some other blogger.
Pick a domain name that is catchy and brandable like Amazon.com
It should be unique and give a feeling of brand by its name itself.
5. Make your Domain name easy to spell and pronounce
You never know when you will be asked to give your domain. That is why it should be easy to spell and pronounce. If you are planning to make the domain for your professional business email ID, then it should be easy to spell and pronounce so that the listener does not make any mistake.
6. Avoid Hyphens in Domain Name
Do not add hyphens to your domain name it can be a sign of spam. Also, if a person forgets to use the hyphen then, he or she might end up on some other page. It can land on competitor's page if he forgets to use the hyphenated domain you made. To prevent the same avoid hyphens in Domain name.
7. Flexible Domain Name
Make a domain name on your niche that gives users an idea about your page. Also do not limit your niche by focusing on a particular product. If you are selling non- perishable goods then do not make a domain as lastingproducts.com you never know in the future you might start selling perishable goods as well. And changing a domain name at that point can be difficult because it may hinder your rankings that won't be able to get on your new domain. To avoid such situations use a flexible domain name.
8. Research your Domain Name
Once you have decided your domain name do not forget to do your research on whether the domain is available or already taken. You can use trademark research to see if the exact name is already trademarked. You can even Google search the domain name on top social media websites like Twitter, Telegram, Instagram, etc.
If a similar domain is found it can serve you many legal implications which might cost a lot of money. So, it is important to properly research your domain to avoid any type of confusion.
Once you choose your domain name, and your website is up you can learn how to trademark and copyright your domain name and logo.
9. Avoid Double Letters
Do not use any double letters in your domain name it can cause typo errors and you might lose traffic on your page. For e.g. If your domain name is WordPress, it may lead to typo, and you will lose traffic.
So avoid double letters to make your domain name unique brandable.
10. Use Domain Name Generators
There are more than 360 million domain names registered every day all around the world. You might think that all the good domains are already taken. Searching name manually can be time- consuming. Well, there are some name Generators that use proper keywords, and help you to come up with some excellent ideas for your domain name.
Nameboy is one such tool that will suggest you the best name as per your niche. There are also many generators that you can use like WPBeginner's free Business Name Generator tool, or IsItWP's domain generator to find more domain name ideas for your page.
11. Act quickly before someone else takes it
There are thousands of domain names being registered every day. So if you think you have found a perfect name for your page then go for it and buy it. If you take time then there is a possibility that someone else found your domain idea and went for it. So, it's always good to act quickly for the name before someone else takes it. These were some tips on how to properly choose your domain name without any difficulty.