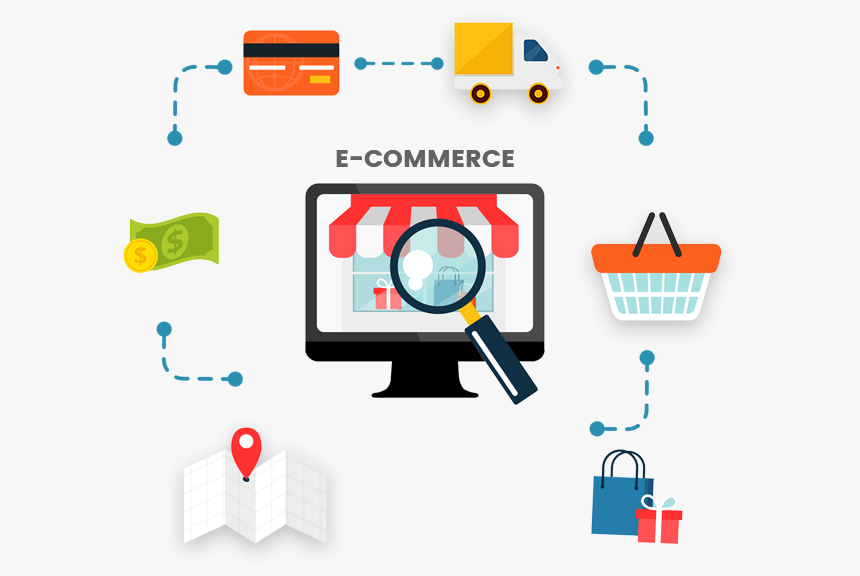 What is E-Commerce? Ecommerce is nothing but buying and selling products online. Selling online has positively helped many businesses to grow and reach a larger number of people. One can easily buy through internet banking and sellers can also advertise their business without any investment and increase their sales. There are many such benefits of e-commerce. Read further to get detailed information on online e-commerce stores and how they excel over offline retail stores.
1. Faster Buying-
In order to buy a product from an offline retail store, a person has to physically get out of the house and go a long way ahead to make a purchase. Sometimes, even the product that he is looking for is not available in the market. This results in a waste of time. Such is not the case with online stores. One can easily go to an eCommerce marketplace and select a product he wishes to purchase and his work is done. The best part is he receives the product at his doorstep. In this case, he does not physically have to go anywhere nor waste his time and effort.
2. Listing of Products-
You can list each and every product you have within 5 minutes just by uploading some required information like product image, description, price and the shipping fee. The customer can see what you have and what are the details. This is not possible in offline retail stores. You have to talk to every customer and repeat the details all over again. The best part of e-commerce? Once your listing is uploaded it is available 24×7 on your shopping website. Customer can visit anytime to your store and make a purchase.
3. Advertisement-
For offline retail stores, one has to go everywhere and place banners about the store and also visit every other shop for advertising. It kind of seems time taking process. Whereas if you see an eCommerce business, it's an advertisement in itself. There are many platforms available online. Facebook is one such medium where a small amount of investment or even no investment can bring you sales. In order to attract customers, you can easily use videos and colorful posts highlighting the sale part which will bring many customers to your page. Advertising is quick and affordable in the e-commerce business.
4. Low Cost-
If you want to open an offline retail store it requires start-up capital, a place for selling, and also furniture. This seems like a lot of investment for a business start-up. Why not go for online selling? An e-commerce store requires less investment and is affordable for every person who wishes to start a small business. Here, all you need to do is upload details of your stores and the products you want to sell and your store is ready.
5. Flexibility for Buyer-
In this busy world where people hardly get time to interact with each other one will always prefer an easy alternative. For purchasing in offline retail store buyer has to decide a particular time to get his work done. Whereas in an e-commerce marketplace the buyer gets the flexibility to make a purchase at his own time as the online store is open 24×7. Another plus point is that buyer gets coupons and discounts, free shipping, and many such conveniences which makes them prefer online shopping. They also comment on a review for their purchase which makes other buyers assurance about the quality of products.
6. Payment Modes-
What if you go shopping and you are less with cash and they don't accept card payment? Such kind of problems occurs when you go offline shopping. Many of the buyers prefer online shopping due to the same reason. You get several payment modes. May it be a debit or a credit card, you know that it's available on the e-commerce marketplace. You can even choose the cash payment mode by using the Cash on Delivery option. Even if you leave the site in the middle of purchasing you get an email to complete the same. Such kind of assurity you get from your online store. You even get your money back if you return the order without any questions asked.
7. Faster response to Buyers Demand-
In online shopping, you do not have to wait until someone assists you to showcase the products and then you go for a buy. Here, if you like a product you just have to cart it, choose a payment mode and your order is placed. You also get the details of the delivery date and time. Even if the product is out of stock at that particular time you get notified via mail when it's available and you can order the product. Buyers demand is given topmost priority in online stores.
8. No Distance Limitations-
If it comes to offline retail stores the seller has limitations for the area of sales. He cannot physically go over to another city and give the product. The benefit of having an online store is that you can reach to a larger number of people and can find new customers. Sellers online also have their own delivery time so making a sale is not an issue.
9. Comparison of Price and Product-
In online shopping, the buyers can easily use tools present on the site and compare similar products as per the price, and can choose what will be reasonable and best for them. This saves money and also helps to acquire consumer satisfaction.
10. Targeted Communication-
With the help of the registration form filled by the buyers, the merchant can easily access some information and act accordingly. For eg., If a customer searches for a washing machine then the merchant can send some of the best washing machines listing to the customer via email.
These were some of the benefits that an e-commerce marketplace has even offline retail stores.